Mr.Robert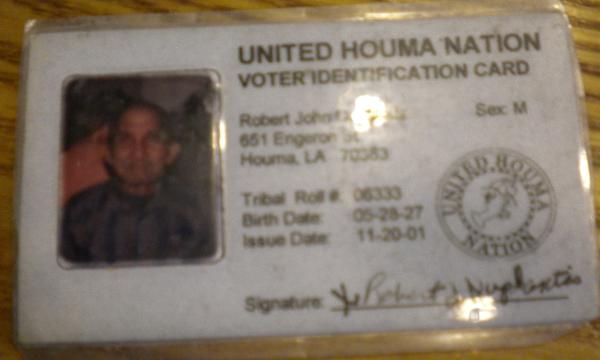 Mr. Roberts Tribal Roll Card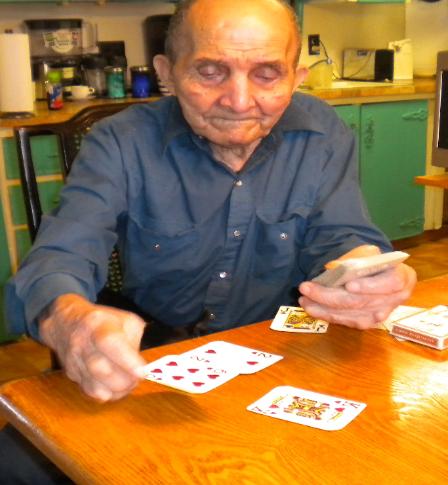 Mr. Robert teaching me about the hearts in a deck of cards.
I Robert J. Duplantis taught Starr Casas about Blackhawk and White Eagle. I know how to work with them and pray to them; so I taught her how to do it. BlackHawk came to me when I was 12 years old. I have worked with BlackHawk for 70 years. I am 82 years old. It is part of my heritage and my family. I am a Houma Indian. I was born in Whiskey Point, Houma Louisiana. We have a Reservation in Grand Calliou. Robert J Duplantis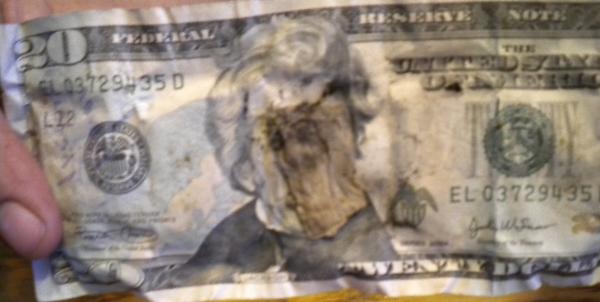 This is a work Mr. Robert taught me; I thought I would share it here. Take a twenty dollar bill and place a piece of uncooked cabbage over the face on the bill. Call on the Spirit of God and say three Our Fathers over the bill. State your petition and fold the money towards you. Fold the packet in a piece of tin foil with the shiny side outward. Keep the packet with your money for the whole year. The next year make a new one with a fresh $20 and spend the $20 from the year before.
Mr. Roberts Daughter Theresa
Before we get to what Theresa has to say; I have to tell you that when I approached her about this I got a shock. She let me take pictures of work I did for her as far back as 1986; I had no idea that she had kept work I did for her that long ago. She even offered to dig up a box that we buried at her back door about five years ago to keep a women who was causing trouble in her marriage away from her home. I declined.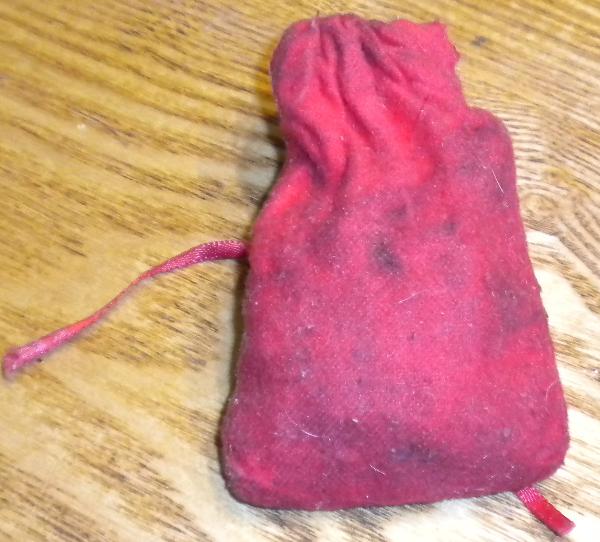 She says I made this bag for her around 15 years ago. It's a love Mojo because I could feel the whole Queen Elizabeth root and 2 lodestones. She wouldn't let me open the bag even though the string has been broken. I offered to make her a new one, but she swears that old Mojo bag is still working.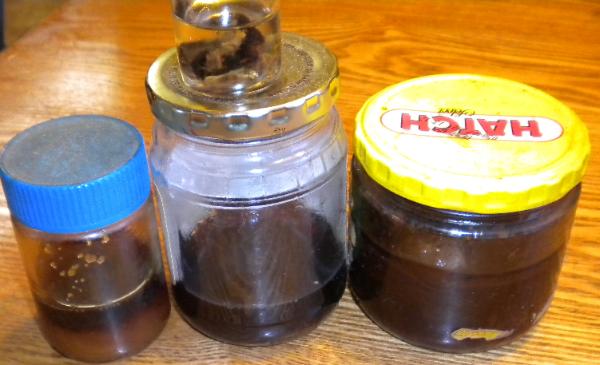 These are some of the conjure jars I have done for her in the last thirteen years.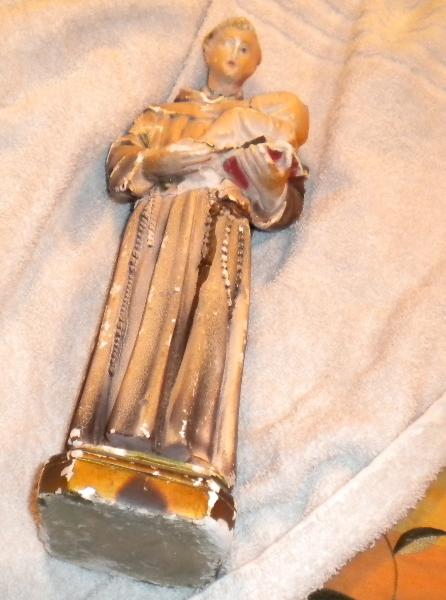 This is a Fixed St. Anthony I did for her about 15 years ago.
Here's What Others Have to Say:
To the people on the Internet! My sister does not lie; EVER! When we were kids and she did something wrong, we would try to blackmail her to make her do what we wanted; she would go tell Mama her own self. I have said this about my sister for many years and I am going to say this again, "People take my sister's kindness as a weakness." That's a joke. Don't let that hillbilly act of hers fool you. My sister has a power within her that would knock most men to their knees. I've felt it a few times when I have made her furious, but the thing is my sister will not hurt the people she cares about no matter how mad they make her.
She has always been weird like our mama, but since our mama passed away in 1987 it has gotten worse. My mama was a trick too just like my sister, which means they only let you see what they want you to see. My sister has helped me many times when I have gotten myself into jams. She's even had me burn candles which, to be honest, scares the hell out of me, but I do it because I know it will work. I respect what she does but I don't like messing with it. She wanted me to tell you about the time I caught Mama burying Daddy's underwear at the corner of the house. Yes that did happen, and to this day I count my underwear. No women is going to tie me down.
W.T. L. the third
February 14, 2010
Hi I'm Starr's granddaughter. I'm 25 and ever since I can remember my grandma has been working. When I was a little girl I remember making books with my maw maw and then her showing me how to put energy into a candle and about herbs. And what I like the most is how she is not full of herself. She lets you know thatshe's not GOD and she will do the work to the best of her ability. D.N.A.
Hey. I'm Starr's grandson. I'm 22 and I think my grandma's work is really good. I remember when I was young and I would hurt myself and she would give me her rock to make the pain go away. And I really like all the different things she does to her altars. I think that she is very good at what she does, maybe even one of the best. F.R.A.
February 14, 2010
Hi. I am Starr's daughter. My mom has done work all my life. I'm 40. She has helped lots of people; I have never seen her work not work. She has a very special spirit. She has helped me a lot in my life. I don't work unless I have to. Most of the time she does it for me. She really knows what she is doing. She has helped my friends. She is not like a lot of workers out there that just want to get paid. Which means it's not all about the money to her. She does not just take people's money if she can't help them. I don't know what else to say but that she is the best. T. N. T.
Hello,
I am 29 yrs old and I have been knowing Starr for 8 yrs. She has done cleansings, love work, court case and money work for me! I have had great results from everything she's done for me! I met her through my aunt whom she had also done work for. She also did work for my Aunt's dad prior to doing work for my aunt! My Aunt's dad has been deceased for almost 15 years ...so I'll let you take a guess as of how long she's been doing this! I think she a strong-willed great worker that I wouldn't trade for the world! L.Y.E.
January 15, 2010
When my family moved from Louisiana in the 60's to Texas, Starr was one of the first kids I met. We became fast friends. She has been a part of my family ever since. She is one of those people that, no matter how many years go by without seeing her, she is always there for you. In 1995 we were sitting around my kitchen table complaining about our lack of money, me and my sister Lisa, may God bless her. When Starr said you could open up a small café, Lisa and I both said at the same time, "With what?" She even convinced us to go look for a building. We found an old building that used to be a café many years ago. The building needed repairs but she said our husbands' could do them.
Lisa and I were just following along with her. We were both thinking that she was full of bull; there was no way we could open a café. By the time we got back to my house Starr had it all planned out. She asked us who owned the building and Lisa wrote down his name for her. She stayed a while longer and said she would call me next week. Lisa said Starr was just blowing smoke up our butts that there was no way this could be pulled off. Lisa and I did everything together; she was not only my sister but one of my best friends, but I knew when Wees got something in her mind she would move a mountain to try and make it happen.
It was about two weeks before Starr came back. She just showed up at my house with a stack of papers and she asked if I was ready to get to work. The stack of papers she was carrying was flyers advertising our first week's lunch menu for a café we didn't have. Starr convinced us to go down plant row and pass out the flyers to see if the workers were interested in having a hot lunch delivered on the following Monday. The Guard passed the flyers out and took orders for us. We couldn't believe it, but we still didn't have a building. We decided just to cook the meals out of my kitchen until we found a building.
On the way home we stopped and talked to the man who owned that building we looked at. I don't know how Starr does what she does but we got that building for three months rent-free. We just had to fix it up and clean it up. We had a café and our first orders. We started our first meal with $45.00. Starr had the electric turned on for us so that didn't cost anything. We were in business and it cost us $45.00 to open our café. When we asked her what she did she said, "Oh a little of this and a little of that." After many years she finally told me that she prayed on the man who owned that building for two weeks so he would let us have a month's free rent. God bless her we got three month's free. She has always been a little different and has an inner power that she doesn't let many see. We love you! Beany Kay
Starr is a good girl. She is like one of my own. She can tell you almost anything you want to know with them cards. Fifteen years ago she told me I would have another man in my life. I didn't believe her. I loved my Bob so much. For the last ten years me and Harry have been visiting each other. I don't think she tells you everything she sees.
Marie C.
February 7, 2010
I knew Starr long time. We share son David. When David was baby he sick all time. My Papa took care of him with eggs and I don't know words in English. David go to hospital so much that my Papa told Louise how to help David. Papa say she very young but can do it cause she special. She been with us long time. She help me much for money. Nancy Gonzalez
Hi. I'm Starr's son David. I'm 43 years old. My mama has always taken care of us when we needed help. I remember when we were young and got sick she would break out the oil, eggs and candles. She has made sure all of us understand what she does and has shared a lot with us so we can help ourselves. My whole life growing up there were people in and out of our house. Mama never turns anyone away. One thing about her is you can't fool her; believe me. I tried when I was young. She might not call you on it but she knows. Even when my mama was young she knew what she was about. She told me how she came to name me David. I'm named after David in the Bible. Mama said she named me David so I would always have power and strength to overcome all road blocks in my life. My mama is a very special person. She always helps the underdog no matter where they come from. She may seem meek and mild but there is a power within her that has scared me more than a few times. One thing about her is she's loyal to a fault and doesn't hurt the people she loves, no matter how mad she gets. If you truly know her, then you are blessed. That's all I gotta say. David
Ok, so this took a while, but my mother-in-law asked me about a month ago to tell what I thought, know and have seen of her and her work. I met my husband, her son, 13 years ago (1997). At first the books, candles, altars and all that scared the hell out of me when I was first meeting his parents. His mom, a very bold but loving woman, never really spoke too much about it the first few years we were married until our oldest daughter got sick. This tea.. that candle.. this oil.. that prayer.. I can't remember what all they were, but she was straight to the point, told me what to do and how to do it and within two days our daughter was fine and over the infection that had spread over her little body. Still scared.. yes, but more open minded by this point I finally got brave enough to ask questions and yes, even begin to learn. I guess I'm like most people. My initial thought was, "OMG. She's a witch!" But after the ignorance of what she was doing was over, I realized that God was the power behind all the 'crazy' things she said and did. While I still do not do much work myself, she showed me that I can and I have never hesitated to do so when it was necessary. From money woes, to broken hearts, to making things just a little easier, I cannot count the times Starr has been there to 'fix' things. While she's still my mother-in-law and I say she's as crazy as a bat, I know from experience that she knows what she's doing and I would run to her in a second if needed. J. from Texas
Since that first time she has done a lot of work for me and my family. She has done love work, uncrossing, court case and work to remove the law. I trust her and when I need want it to go she will tell you right up front. She is the best as far I am concerned and I know my family feels the same way about her. Maria Luz Fort Worth, Texas
I met Starr in 1983. We worked together. One day we were just talking and card reading came up. She told me she could read playing cards and I asked her if she would read mine. At the time I was having trouble with my then husband. He just couldn't keep his sorry butt home. She fixed him for me and for a long time he stayed home. I finally got tired of the battles just like she told me I would and divorced him. Kim Turner
First off I need to tell y'all that I've known Starr for a long time (8 years) and she has really changed my life. I believe in all of my heart that she is an amazing woman. Yes she's stubborn as hell and obstinate but she has a good heart and has lots of love to give to the world. It is partially due to her that I'm doing conjure work. When she read me for the very first time she said some things to me that have always stuck with me ever since. If I need a listening ear Starr is there and when I screw up she's also there to straighten me out! Miss Starr Casas is the real deal and she ain't the one to play games with either! I know because I've seen her spirit in all its fury. I KNOW WHAT she can do!!! To be honest Starr doesn't need to prove anything to anyone but if you are blessed with the chance to know her like I have then you can see that she really is a TRUE, HONEST, & POWERFUL hoodoo conjure spiritual worker!!! She's also an inspiring teacher, funny, and a wonderful woman to have around. Her presence is very uplifting and with her spirit you feel like you can tell her anything. I'll never forget the time I took my uncle to her house to get cleansed. To see her at work was amazing and the Spirit was in that house! My uncle was so full of the Spirit that he couldn't drive home. He felt drunk, weak, and couldn't move even though he had no alcohol to drink. All I can say is that if you need a listening ear and some help along the way Starr is the one who can take care of you. She carries that wisdom like the old folks from back in the day and with her you feel like you're dealing with a close family member. Starr is not just a worker but a teacher who'll always point you in the right direction and a true friend if you treat her right. I love you Starr and Thank you for the love, work, and support you have put into me. Marc Richard
I have known Starr over a year. My husband and I had problems that were mounting one on top of another just like building blocks and never going anywhere. They were so grave with no end in sight. A mutual friend, who also does work for clients, said to me, "Denise I just don't know what to do for you anymore," because she had exhausted all of her knowledge as a hoodoo-worker. She told me I needed an authentic "Root-worker" to straighten out the mess in our lives. We were feeling like someone had sent out a curse on us to damage all areas of our life. Call it what you want, curse, hex, jinx, cross, hoodoo, voodoo, or black-magic… All I know is that our life was slowly being taken away from us. We were even on the verge of losing our house at one point.
Anyway, the mutual friend told me she knew an "authentic and gifted root-worker" who could help us make our crooked roads straighter and see the end of the tunnel. She gave me the name, "Starr," and Starr's phone number. The mutual friend had already called Starr ahead of me. She told me Starr would know what to do for me and how to make it work.
Sure enough, I talked to Starr and she sensed the panic and pain from my voice. She almost immediately suggested what she could do to help us. I tell you the truth, after Starr worked her magic into our lives, we started seeing and feeling the difference in the outcome of each situation we found ourselves in. Starr is so kind and caring but, at the same time she's very straight forward. She made me feel comfortable and like I could trust her. She told me exactly what she said she could do.
My sister had problems with her husband of only 1 ½ years over their financial situation because my sister had lost her job. At this particular time my Mom was visiting with my sister. My Mom called me and told me what was going on there and how my brother-in-law was speaking and acting toward my sister and threatening to leave her because he couldn't handle the stress of taking on the bills without her income. Mom knew what Starr had done for my husband and I in our messed life so she said, "Why don't you call Starr and see is there anything she can do." I set up a consultation with Starr and sure enough, right after I explained the situation to Starr, she knew what to do. My Mom even trusted Starr to the point that she agreed to pay for whatever services Starr suggested. Within 2 weeks my Mom was calling and telling me that there was a big difference in my brother-in-law's attitude. She said she could see an immediate change in what he was saying and how he was treating my sister. After about 4 weeks my sister had a job and now 5 months later, they are once again a happily married couple.
I don't understand all of it, but my husband and I know we can trust Starr to do the work that she says she will do for you. We know Starr is gifted for this calling. We found ourselves in a situation which would put us around a lot of people who we knew were jealous of us including his ex-wife who was behind all the mess we went through. I set up a consultation with Starr and she immediately suggested that we needed a "protection mojo-bag." In record time Starr worked fast and really went the "extra mile" for us to make, prepare and send us those "protection mojo-bags" by the time of the event we needed them. This was within one week!
I know Starr isn't God but, she is a truly gifted "Root-worker/Spiritual worker" who knows how to get in touch with the "Spirit World."Most recently Starr began working another job for us involving what I think is an un-natural illness on my husband. I know we will be pleased with the results just as we've always been with Starr's work. I can tell Starr anything without judgment and I want to let Starr know how much I appreciate her for that as well as the work she has done for my family and I. This is not a paid advertisement but, rather it is my own testimony of my experiences with Ms. Starr Casas. You don't believe me? Ask Starr for my number. Denise, Texas.
If you find the site useful please give a small donation