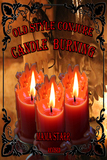 OLD STYLE CONJURE CANDLE BURNING BOOK
This book started out as a candle burning booklet for on of Mama's workshops at the Folk Magic Festival and ended up turning into a full book. Conjure spiritual books written to help you excel in Hoodoo or what we call "roots." Within the pages of this book you will find information on 10 yes 10 Saints that Mama works and information given in this book. From front to back the book totals around 187 pages. The book has colored photo of some of the work so you can see how the work is done.
In this special book Momma Starr sheds light on how to work with candles, lamps, and the different works you can do by working with the Spirit of the flame. Working a Conjure candle or lamp is more than just lighting the wick and saying a small prayer. There's more to the work and once you make use of the knowledge in this book a whole new world will open to you. Like the arms of the cross the Old Style Conjure Candle Burning book is packed with knowledge from top to bottom and right to left; the sign of the Crossroads that old workers use when calling down the Holy Spirit into your work.
For every candle you light and for every conjure lamp you burn there's a work in this book you can do whether tying a mojo hand, making a packet, workin the handkerchief on somebody's name, or calling the saints to work side by side to help you gain power. You'll learn all these things and much more by buying this book and discerning the knowledge in its pages. There's something in this book for every kind of spiritual worker and for a small price of $24.95 you'll avail yourself of over 40 years knowledge and secrets Momma Starr uses in this book for herself and her clients. So buy the Old Style Conjure Candle Burning book and light your own way to Success!!!