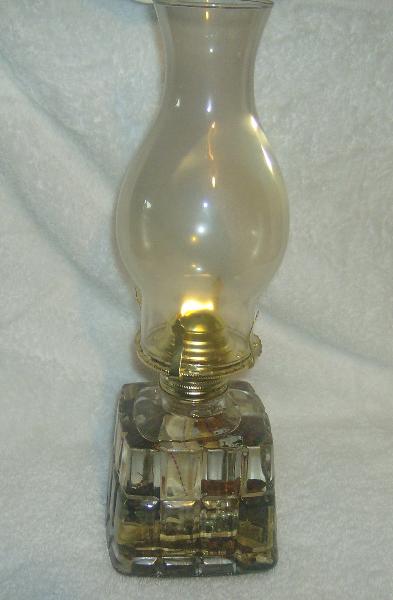 PERSONAL OIL LAMP

I started the personal Lamp to help me focus and to get the things I needed to do done. I have started a new book and as you can see I am working hard on this website. I don't burn my lamp everyday but I light the lamp when I need extra help. The lamp also helps remove obstacles out of my way so I can get my work done. This lamp was made to help me in all areas of my life. This lamp is filled with the spirit of those who walk beside me daily. If you make only one lamp then this is the one you should choose. This lamp has 21herbs, roots, curios and personal concerns in it. What you add to your lamp is very personal, I am going to give you a few ideas that will make your lamp a success for you.
I bought a new oil lamp for my personal lamp. I wanted to start fresh. You need to cleanse the lamp first. Place some hair from the crown of your head and any other personal concerns you want to add. Pray Psalm 23 over your lamp at this time. The next step is to decide what roots and herbs you want to add to your lamp. Sometimes we find herbs and roots that we can feel the power just vibrating off of them; we are very drawn to these herbs and roots. These are a must for your lamp. Below is a small list of other herbs and roots that will help your lamp have the power you need.
2 lodestones and pyrite
At least 2 of the John roots
Devils Shoestring
Angelica root
Licorice
Calamus
Dragons Blood
Frankincense
This small list should get you started; you can also add money, business cards, rosaries or whatever you want to add that means something to you. After you have all your items in the lamp fill the lamp with oil. Then read Psalm 23 over the lamp again. Light your lamp and let it go to work for you.