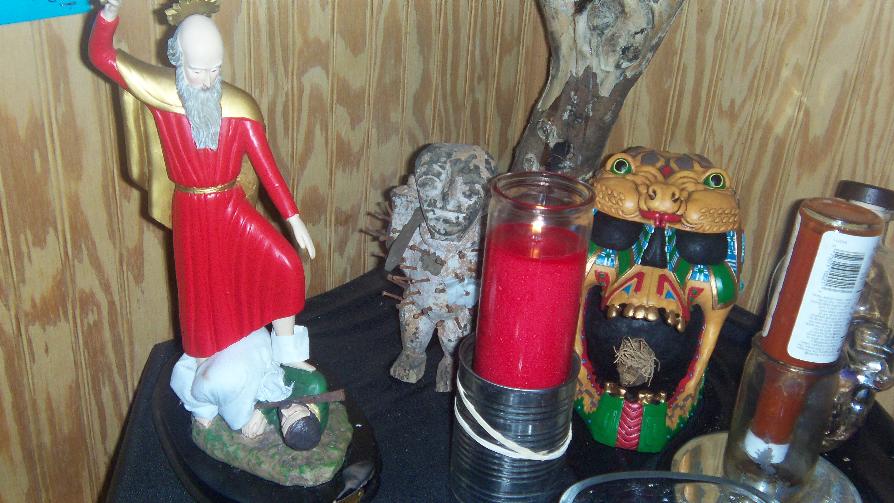 THE PROPHET ELIJAH

Above is the photo my altar
Elijah is one of God's very powerful Prophets. God gave Elijah the power to take a life or to bring the dead back to life. God also gave Elijah the power to make fire fall from the sky. The old folks will tell you that Elijah rode a flaming chariot and horses to heaven. In 2 Kings it tells us that Elijah was with his son when God called him home. The Prophet Elijah is very powerful, he doesn't mess around. If you find your self in need of him all you have to do is call him. Set up a small altar, with a nice cloth, you can add a skull if you have one, you need your Bible, a candle or vigil, a cool glass of water. Then you call on the Trinity, your Ancestors then the Prophet Elijah. Pour your heart out to him and pray your petition. Let your candle or vigil burn out.

"8 And Elijah took his mantle, and wrapped it together, and smote the waters, and they were divided hither and thither, so that they two went over on dry ground.
9 And it came to pass, when they were gone over, that Elijah said unto Elisha, Ask what I shall do for thee, before I be taken away from thee. And Elisha said, I pray thee, let a double portion of thy spirit be upon me
10 And he said, Thou hast asked a hard thing: nevertheless, if thou see me when I am taken from thee, it shall be so unto thee; but if not, it shall not be so.
11 And it came to pass, as they still went on, and talked, that, behold, there appeared a chariot of fire, and horses of fire, and parted them both asunder; and Elijah went up by a whirlwind into heaven."
In 1 Kings we are told that when God brought the great drought on the land; the ravens kept Elijah alive while he was waiting on God to decide what to do. God said "2 Then the word of the Lord came to him, saying, 3 "Get away from here and turn eastward, and hide by the Brook Cherith, which flows into the Jordan. 4 And it will be that you shall drink from the brook, and I have commanded the ravens to feed you there." He trusted God with an undeniable faith; even when there was no food or water; his faith that God would take care of him never wavered.
This whole thing started because Jezebel who was Ahab's wife began to order the death of God's prophets. Of course God didn't appreciate this so he sent Elijah in. King Ahab wouldn't listen to God though so God ordered a drought; no rain in sight. The problem with Jezebel was she worshiped the God Baal. She doesn't like Elijah talking about his God and how powerful he is so in 1Kings we see she sent him a challenge which he gladly picked up "2 Then Jezebel sent a messenger unto Elijah, saying, So let the gods do to me, and more also, if I make not thy life as the life of one of them by to morrow about this time.". The battle was on. He accepts the challenge and not only does he offer to battle Jezebel he also battle her priest and her God Baal. Want to know what happen next; check out 1Kings and 2Kings!
The Prophet Elijah is like a double edge sword; he can be gentle as he was with the widow who feed him or he can bring fire raining from the sky. He will serve up justice with his mighty sword and defend you against your enemies.