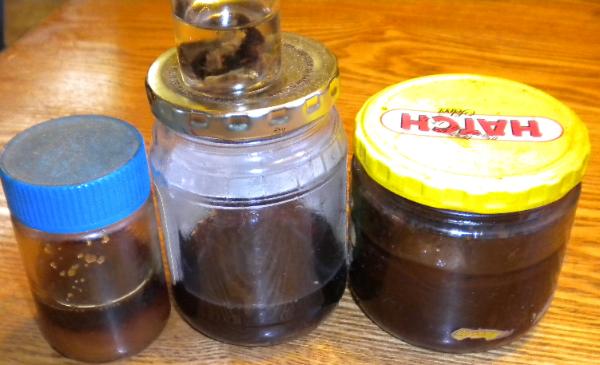 HOODOO JOB HONEY JAR

This honey jar is made to sweeten and draw your boss to you. I like honey for this sweetening job work because honey preserves so you should add at least a table spoon to syrupand we want to have a steady job. Not only does the honey preserve but it will also crystallize over time and lock the job down. In another words you'll be stuck on that job. This steady work conjure jar should be worked daily. To make this jar you need a small jar, make sure you cleanse the jar before you began your work with. Write your petition out on a photo of your boss, cover the petition with the prayer "the Lord is my Sheppard I shall not want" across your petition. Dust the photo with the hoodoo steady work powder then place it in the jar. Name your magnet either raise or promotion, then feed it some of the pay me conjure oil; hold the magnet up to your mouth and pray your petition and prayer into it then place it in the jar.
Now you can add your pyrite , High John the Conquer root, five finger grass , alkanet Root, Master Of the Woods, Pay Me Oil, Steady Work hoodoo powders . The mercury dime is added for protection. Once you have everything in your jar pray over it and add your honey. Close the jar then set it up in a cross set up with four candles. Shake the jar daily and pray your petition. When the vigil candles have burned out you can burn tea lights on top of your honey job jar to keep it working. These jars are also called spell jars or container spells by some.
Small Jar
Honey
Petition Paper
Personal Concerns
Mercury Dime
Pyrite (To Draw)
Magnet (named Raise or Promotion)
High John (To Remove all Obstacles)
Five Finger Grass (To Grab the Money)
Alkanet Root (To Protect the Money)
Master Of the Woods
Pay Me Oil
Steady Work hoodoo powders